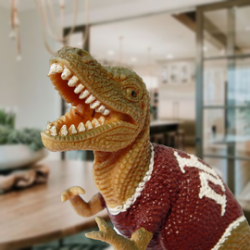 Newton The Dinosaur Mascot
---
Address / Location:
New Hire Solutions
174 Big Star Drive
Thomasville, GA 31757
Corporate
About:
Meet Newton!
This little dinosaur loves people and having fun, works hard, volunteers in his community, and still has time to serve as the mascot for New Hire Solutions. You may have noticed him at one of our job fairs or on social media and thought to yourself, "What do a T-Rex and a staffing agency have to do with one another?"
We're so glad you asked.
In its time, the Tyrannosaurus Rex was considered the king of the dinosaurs. This creature was able to leverage its size, speed and ferocity in such a way that it out matched all the other dinosaurs. Well, we're at the top of our game as well. We have all the advantages to find the right people (not to eat them), find the right jobs, and exceed your employment needs. We're fierce about our commitment to you and, like Newton, we try to make work as much fun as possible.
Let Newton and the rest of the team at New Hire Solutions work for you!
---