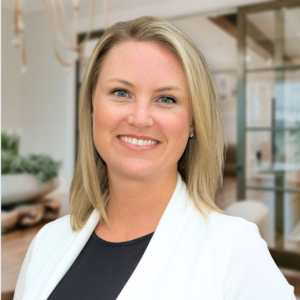 Landis Thomas President
---
Address / Location:
New Hire Solutions
174 Big Star Drive
Thomasville, GA 31757
Corporate
About:
Landis Thomas is Cairo native and graduated Cairo High School in the top 10 of her class. After high school, she continued her education at Valdosta State University where she graduated magna cum laude with her Bachelor's Degree in Middle Grades Education concentrating in mathematics and science. She worked her way through college at New Hire Solutions in the accounting department, where she discovered her passion for business. After graduating, Landis decided to detour from the educational system and continued working in the accounting field at Cleaver-Brooks, where she handled all accounts payables for two of their locations. In the spring of 2012, Landis returned to New Hire Solutions as the Comptroller. After four years of building up her skills and learning the ins and outs of NHS, Landis was promoted to President in 2016. In this position, she manages all of the company's locations and closely oversees the accounting department.
Landis participates in many events and activities with the Thomasville-Thomas County Chamber of Commerce. In addition, she is a graduate of the Leadership Group of 2014, was part of the Curriculum Committee when revamping the program in 2017, and is a day chair and facilitator for the current program. She participates with surrounding area Chamber of Commerce events and is a member of the pilot Leads Group with the Bainbridge-Decatur County Chamber of Commerce. In 2018, Landis studied and passed the exam to become a Certified Staffing Professional through the American Staffing Association. She then restarted the Thomas County Employer Committee and is the current Board Chair offering training seminars and educational programs for local employers and their staff members in the southwest Georgia region. She is also a graduate of Locate South Georgia Leads Regional Leadership Program class of 2019.
Currently, Landis resides in Thomasville with her husband and two daughters. She and her husband are both business owners and, in their spare time, work on improving their entrepreneurial careers together. They are members of the Thomasville First Baptist Church where she volunteers with the children's ministry.
Outside of the office, she loves soaking up the sun, playing softball, and spending time near water, whether it be at the beach or on the river. She also prioritizes family time by watching her girls dance at their studio.